Press Release
On December 13, 2017, "Panasonic / Chiba Institute of Technology Industry - Academic Collaboration Center" was launched to accelerate development of next generation robot appliances.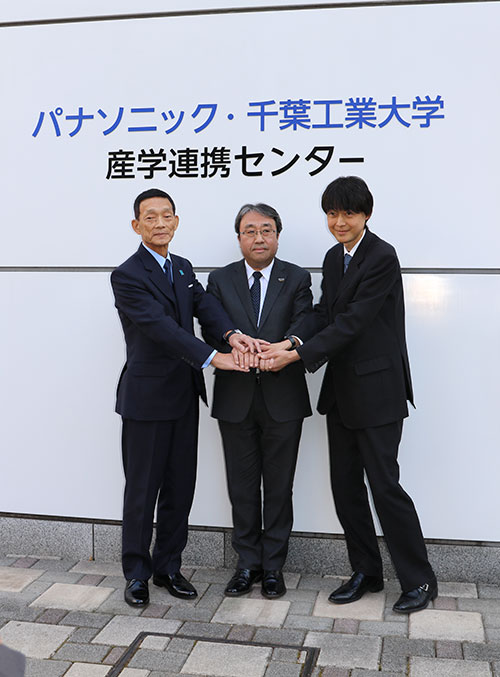 Panasonic Corporation (Headquarters: Kadoma-shi, Osaka, President and CEO: Kazuhiro Tsuga, hereinafter Panasonic) and Chiba Institute of Technology (Board Chairman: Osamu Setokuma) inaugurated "Panasonic / Chiba Institute of Technology Industry Academic Collaboration Center" (hereinafter the collaboration center) today. Chiba Institute of Technology has the most advanced robotics technology, robot intelligence technology, and the capability of integrating those technologies into robots of the highest degree. Those technologies will be integrated with planning and development capability of reliable home appliances of Panasonic. The university and Panasonic will work together to create ideas and to develop innovative technology to bring these ideas to fruition and into commercial ventures.
As a first step in this corporative effort of the collaboration center, Panasonic will take the initiative to commercialize next generation robot appliances using the "Scan SLAM" technology developed by Future Robotics Technology Center*1of the Chiba Institute of Technology. This technology identifies distance measurements at high-speed using sensing information. SLAM (Simultaneous Localization and Mapping) is a core technology to construct a map of robot's environment by analyzing the information recorded by a self-localizing sensory laser or camera. "Scan SLAM" has the world best hi-speed processing capability. This technology plays a crucial role for autonomous behavior generation of robots similar to human vision.
Although many collaborations of universities and corporates aim to achieve R&D, often in fundamental studies, our attempt to offer cutting-edge technology for commercial product development is rather exceptional in Japan. We aim at creating a better future society by transferring many of the university's leading-edge technologies into practice smoothly and speedily through this collaboration center.
Chiba Institute of Technology and Panasonic will accelerate Open Innovation initiatives through the collaboration center and propose "new values in daily life" by developing next generation robot alliances.
Location
2-17-1 Tsudanuma, Narashino-shi, Chiba (in Chiba Institute of Technology)
Established
December 13, 2017
Director
Takayuki Furuta
(General Manager, Future Robotics Technology Center, Chiba Institute of Technology, and Executive Director of Chiba Institute of Technology)
Deputy Director
Hidemi Fuchigami
(Panasonic Appliances Company, Managing Officer, CTO
Director, Engineering Division)
*1 Future Robotic Technology Center (fuRo), Chiba Institute of Technology fuRo is the robotic technology research base of Chiba Institute of Technology, which has the longest history of all the technology institutes in Japan. fuRo is led by a robot creator Dr. Takayuki Furuta, and has 20 well-qualified researchers. At RoboCup 2014 (artificial intelligence soccer competition) in Brazil, a fuRo team dominated the competition by winning all four competition categories in Humanoid League. In 2017, the same team won the Technical Challenge of Humanoid League at RoboCup 2017 and the other fuRo team became the first team to accomplish three successful runs in a row at "Tsukuba Challenge", autonomous driving robot competition. Thus, fuRo has abundant expertise in artificial intelligence and autonomous driving control technologies. fuRo also developed the disaster site probing robot that is the only one in the world to be able to explore all five floors of the demolished reactor building in the Fukushima Daiichi Nuclear Power Plant. It achieved various missions including an investigation that lead the Japanese government to announce the "cold shutdown" of the troubled power plant. fuRo is highly skilled in R&D from mechanical and electrical design to the artificial intelligence and intelligent sensing, as well as integrating all of those leading-edge technologies to create highly advanced robotic systems.