Sakura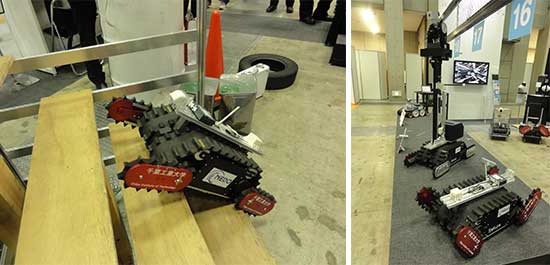 Sakura – Reconnoitering Mobile Robot
Sakura, meaning cherry blossom, is a robot developed to survey the inside of the Fukushima Daiichi nuclear power. It is specifically designed to collect information in underground facilities, where surveys are considered most difficult. The underground portion of the nuclear reactor building has severe conditions not seen in the aboveground portion. There, a robot needs to have high mobility and be able to withstand high radiation levels.
(1) The staircases have a steep angle of 42 degrees, not 40 degrees of the aboveground portion.
(2) The staircases are narrow, including the landings. They are both 70 cm wide, as compared to 91 cm in the above ground portion.
(3) To reach the top portion of the pressure suppressing chamber, the robot has to climb a 52-degree staircase.
(4) The robot has to travel and turn on the grated catwalk at the top of the suppression chamber.
Sakura, with capabilities to meet the above conditions, will perform critical tasks in many places inside the reactor building as an eye of automated disaster response systems, unattended remote construction machinery, and more.
| | |
| --- | --- |
| size | 390 mm (W), 500 mm (D), 220 mm (H) |
| weight | 32kg |
funded by NEDO (Research and Development Project for Automated Disaster Response Systems)